Lieutenant Adolph Mencin:
Navy Ace with 6 Aerial Victories
Born in Oglesby, Illinois on March 24, 1916
A graduate of LaSalle-Peru-Oglesby Junior College and Illinois State University, he entered the Navy as an Aviation Cadet at the St. Louis Naval Air Station in August 1940. Further flight training took place at NAS Pensacola Florida and he graduated with the rank of Ensign in May of 1941. After graduation Ensign Mencin was made an advanced flight training instructor at Pensacola NAS. Ensign Mencin was promoted to the rank of Lieutenant (jg) in June the following year.
In June 1943 Lt. (jg) Mencin was ordered to Atlantic City NAS to join the newly formed Fighter Squadron 31 (VF-31). At that time he was one of the more experienced pilots in this newly formed squadron and one of the few pilots with instrument flying experience.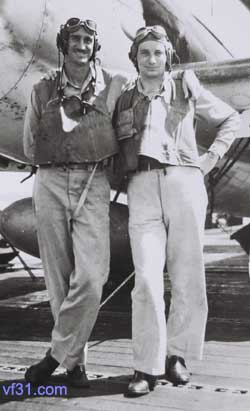 Lt. Cmdr Winston Lt. Mencin

Adolph Mencin was promoted to the rank of full Lieutenant on September 1, 1943

During his time in active combat with VF-31 Lt. Mencin is credited with destroying 6 enemy aircraft in aerial combat and probably downing an additional 2 aircraft, becoming a Naval Ace

Lt. Mencin served as flight leader of Division 2 for the entire tour of duty aboard the USS Cabot. He was assigned to the position of Executive Officer for Fighter Squadron 31 (VF-31) taking the place of Lt. Patterson. Lt. Mencin was the squadron Executive Officer aboard the USS Cabot for most of the time spent in active combat until the end of their 1st tour of duty in October of 1944.

After a few months R&R at the end of his tour of duty Lt. Mencin was assigned to the USS Charger (CVE-30) as the Flight Deck Officer. He served in this position from December 1944 through March 1945. USS Charger was a training and air qualification carrier that was stationed in the Chesapeake Bay. Many of the pilots who served in the US Navy during the war took their carrier landing qualifications aboard the USS Charger.

On June 1, 1945 Adolph Mencin was promoted to the rank of Lieutenant Commander and transferred to the USS Hollandia (CVE-97) as Assistant Air Officer aboard.

Engagements flown in which Lieutenant Mencin shot down enemy aircraft:
July 4, 1944 - Iwo Jima: Credited with 3 aerial victories in this engagement.

September 22, 1944 - Luzon Philippines: Credited with 3 aerial victories in this engagement.
Medals Awarded to Lieutenant Mencin while serving with VF-31
In the years after the war Lt. Cmd. Mencin served as Assistant Operations Officer at NAS San Diego, studied at the General Line School in Monterey, California, was Executive Officer of Utility Squadron 3, and then was assigned to the NAS Lakehurst, NJ where he served as Assistant O & R Officer and Operations Officer. He was promoted to full Commander in 1952.
From March 1954 until April 1962 he was the Commanding Officer of fighter squadron 85 (VA-85) aboard the USS Champlain (6th Fleet), Executive Officer of Composite Squadron 33, then Training Officer at NAS Cabaniss Field (Corpus Christi, TX), and then Operations & Plans Officer on the Staff of COMBARLANT (NAS Argentia, Newfoundland).
He finished his Navy career in Philadelphia first as the Executive Officer, Inspector of Naval Material and Director, Quality Assurance, Defense Contract Administration (1962-1966) and then at the Naval Air Technical Services Facility as Executive Officer and Head, Aeronautical Maintenance Mangement Information Department.
Commander Mencin retired from the Navy in June, 1968 after a distinguished naval career of 28 years. He passed away on January 19, 1998 after 30 years of retirement in Rogers, Arkansas.