Lieutenant Commander Robert Alexander Winston:
Navy Ace with 5 Aerial Victories to his credit.
Born in Washington Indiana in 1907, he graduated from Indiana University in 1930, and worked for both the New York Times and New York News from 1930-1935.
He took his first flight as a Naval Cadet at Floyd Bennett Field in Brooklyn NY in August 1935 and completed his pilot training at Pensacola NAS (Naval Air Station) in Pensacola Florida. Cadet Winston made his carrier qualification landings aboard the carrier USS Saratoga (CV-3) in 1937 and after qualifying he was assigned to Fighter Squadron 1 aboard the USS Lexington (CV-2) in the pacific, flying the Boeing F4B-4 biplane. He was then assigned to Fighter Squadron 6 aboard the newly commissioned aircraft carrier USS Enterprise (CV-6) flying the Grumman F3F-2 biplane. He was ordered to Pensacola NAS in 1938 to become an aviation instructor. Upon finishing his 4 year obligation with the Navy in 1939, Robert Winston entered the Naval Reserve.
During February and March of 1940 Robert Winston and a team of mechanics from the Brewster Aircraft Company assisted in the delivery of 44 Brewster Buffalo fighter aircraft that were sold to Finland and delivered through Sweden. Winston's duty with the Brewster Aircraft Company was that of head test pilot for all aircraft delivered on this contract. He would test fly each aircraft after it was reassembled at the Saab factory in Trollhättan Sweden and work with the pilots of the Finish Air Force to familiarize them with the operation of the Buffalo fighter aircraft. Here is a web page that chronicles Winston's time in Sweden and Finland working with the Brewster company on the testing and delivery of the Finish Buffalos. Robert Winston would meet his future wife while in Stockholm Sweden and would marry her in October 1940 after he returned to the US. When the Finish Brewster contract was completed Brewster Aircraft requested Winston to go next to Belgium to test more aircraft that were being delivered to that country. Germany invaded Belgium before any aircraft arrived and Winston, along with the other Brewster employees fled to Paris in the hopes of assembling the aircraft in France. Just days before Paris fell to the German army Winston left for the US, a trip that would take him across France, through Spain and Portugal, and finally aboard a Pan Am Yankee Clipper flying boat for a flight from Lisbon Portugal to NYC. For his service in Sweden and Finland Robert Winston was awarded the Royal Order of the Sword by Sweden, the Mannerheim Medal and Winter War Medal by Finland.
After his escape from Europe, Winston returned to active duty with the Navy at the rank of Lieutenant (jg) and again was assigned as a flight training officer at Pensacola NAS and later in the year at Corpus Christi NAS. In 1941 he was transferred to the Navy Department's Bureau of Aeronautics in Washington DC. Lt. Winston was Director of Naval Public Relations in Washington DC when the United States entered the war.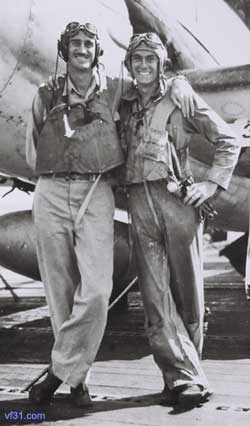 Winston and Nooy

He requested transfer to fighter duty and was sent to Jacksonville Florida for a refresher course in fighter tactics and training as an air group executive officer.

Upon completion of his training Lt. Winston was order to NAS Atlantic City, New Jersey, with the rank of Lieutenant Commander, to take command of Fighting Squadron 31 which was being assembled. Lt. Cmdr. Winston arrived at NAS Atlantic City on May 1, 1943. They received their F6F Hellcat fighters, being the 2nd full squadron outfitted with this exceptional aircraft and chose the squadron name of the "Flying Meataxes" and motto "Cut em Down". With the exception of Lt. Adolph Mencin (who would later become VF-31 Executive Officer), Lt. (jg) Jack Wirth and Lt. (jg) Herrall Scales the original complement of fighter pilots were all inexperienced Ensigns and included what would become some of the finer pilots of the squadron: Nooy, Wilson, and Hawkins. The Navy replaced the Dauntless dive bomber with the Helldiver which were too large for the light CVL carriers so fighter squadron 43 (VF-43) was combined with VF-31 just before the USS Cabot sailed for the Pacific to make up for the lost dive bomber numbers and doubling the number of fighter aircraft and pilots.

On December 20, 1943, just before USS Cabot embarked for their 1st engagement as part of Task Force 58 and while still in Pearl Harbor Lt. Cmd Winston relieved Commander James Vredenburgh as commanding officer of the full Air Group (VF-31 and VT-31).

Lt. Cmdr Winston was the flight leader of Division 1. His wingman during his entire tour with Air Group 31 was Cornelius Nooy who would become the 4th highest scoring Navy ace during the war with 19 confirmed victories.

Engagements flown in which Lieutenant Commander Winston shot down enemy aircraft:
Medals Awarded to Lieutenant Commander Winston while serving with VF-31
Distinguished Flying Cross

Bronze Star

Air Medal

Gold Star in lieu of 2nd Air Medal

Gold Star in lieu of 3rd Air Medal
Lt. Cmd. Winston served with Air Group 31 from its formation in May of 1943 until he was ordered back to Washington DC on June 29, 1944. Winston was promoted to the rank of Commander and assigned to the Navy Department in the Aviation Training division. In June of 1945 Cmd Winston was ordered to Guam and served at the advanced headquarters of Admiral Nimitz.
After the war, Commander Winston was assigned once again to Sweden, this time as the Naval Air Attaché with the US Ambassador's office in Stockholm from 1945-1948. He returned to Washington DC and served at the Navy department as the Director of Public Relations and with the CIA until he retired from the Navy in 1950 with the rank of Captain. From 1955 to 1958 Robert Winston worked as the manager of corporate press relations for General Foods. He was the president and publisher of Freedom Press New York from 1958 to 1967 and president of Fargo Press New York from 1967 to 1974. Robert A Winston passed away on June 3, 1974 of bone cancer.

Robert A. Winston wrote several books during and after his military career:
Dive Bomber: Learning to fly the Navy's planes (1939) Holiday House
Aces Wild (1941) Holiday House
Barnstormer (publisher and date unknown)
Aircraft Carrier (1942) Harper Brothers
Fighting Squadron: A sequel to Dive Bomber (1946) Holiday House
Fun in the Water (1952) June & Osborn
Writing under the Pseudonym of Col. Victor J. Fox he wrote the following books:
The Pentagon Case (1958) Freedom Press
The Welfare States (1962) Freedom Press
The White House Case (1968) Fargo Press

Robert Winston also had stories and articles published in:
The Sportsman Pilot Magazine:
- May 1937 - Navy Wasp Powered Grumman Antics
- June 1937 - USS Lexington in Hawaiian Waters
- July 1937 - Formation Night Flying
- Aug. 1937 - From a Carrier's Gun Turret
- Sept. 1938 - Squadron Tactics
Readers Digest: Wheels over Water - July 1939
Flying and Popular Aviation magazine: The Real Nazi Terror - October 1940
Saturday Evening Post: How our Navy Outfoxed the Japs at Saipan - Sept. 23, 1944